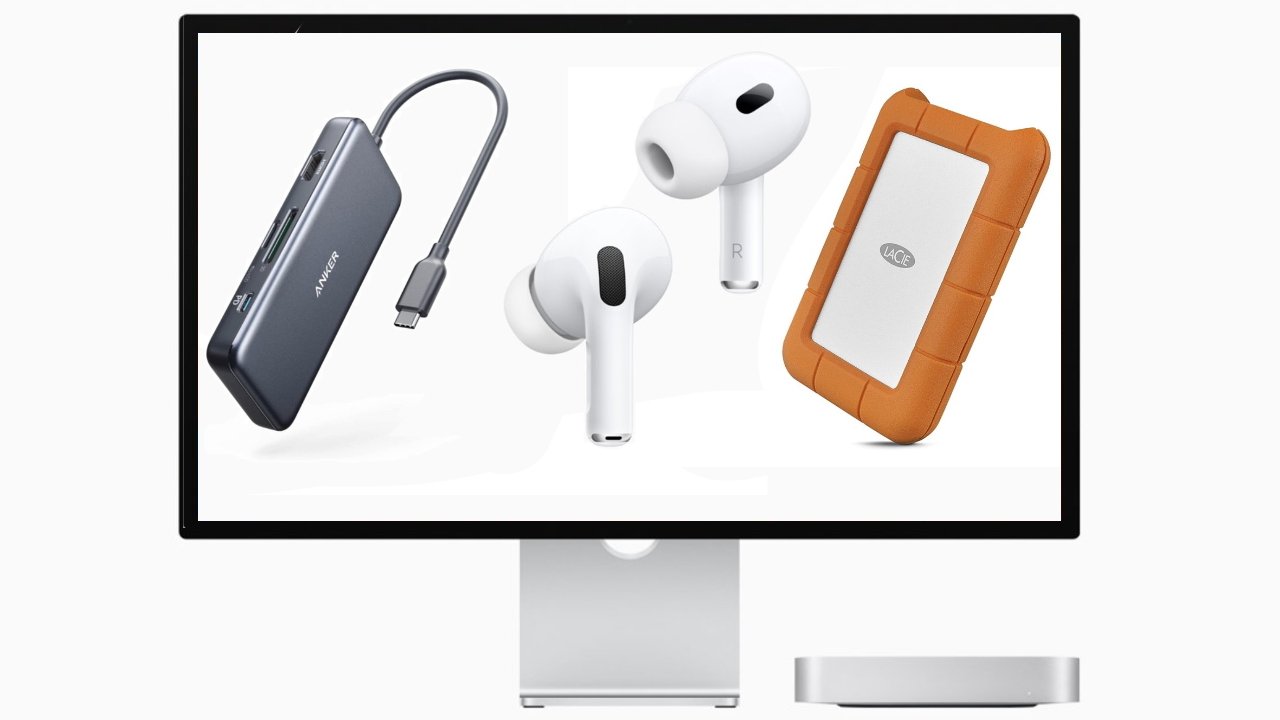 AppleInsider may earn an affiliate commission on purchases made through links on our site.
If you are planning on buying a new M2 Mac mini, you may want to add onto it with keyboards, mice, docks, and more. Here are the best accessories for your new Apple device.
The new Mac mini now houses an M2 and M2 Pro chip inside of itself in the same 7.7-inch square design. The M2 Pro has two more thunderbolt ports than the base M2 model.
Though the new Mac mini offers more power, it is $100 lower than the previous generation, starting at $599 ($499 for educational purchases).
Here are the best accessories for your new Mac machine.
Monitors
Your Mac mini is the body of your computer but needs a display to partner with it so you can see the content you want to work on. The device offers USB-C and an HDMI port for you to connect a monitor to.
Apple Studio Display
The Studio Display was introduced in partner to the Mac Studio, and while the Mac Studio may be expensive for people who want the Studio Display, the Mac mini is a perfect substitute for it.
The Studio Display houses a 5K Retina display with 14.7 million pixels and 600 nits of brightness. The 12MP camera on top also offers Center Stage support.
Six speakers built-in support Spatial Audio, four force-canceling woofers produce bold articulate bass and minimize distortion, and there are two high-performance tweeters as well.
There is a 3 microphone array — which offers studio quality performance — and the A13 Bionic chip allows you to use "Hey Siri" commands.
On the back, you can find 3 USB-C ports and 1 Thunderbolt port.
USB-C and Thunderbolt hubs
The M2 Mac mini only offers two thunderbolt ports, while the M2 Pro offers four. You may want to add additional ports for more options for USB-C, MicroSD card slot, or more USB-A ports, and external hubs can help with that.
Anker USB-C Hub
The Anker USB-C Hub plugs directly into your device and allows you to have additional ports to utilize out of just the one you have plugged into.
The Hub offers an additional 4K HDMI port, two USB-C ports, adds one MicroSD card slot, and 1 SD slot.
This is great to have because it adds multiple additional ports — that you may need — to your Mac mini through one USB-C port instead of taking up multiple.
You can purchase the Anker USB-C Hub on Amazon for $34.99 with an optional 15% coupon attached.
MonitorMate ProBase Gen2
Mac mini is small enough to fit under a stand or be tucked away easily, but it may become difficult to access the ports behind it in the future if you do this. The MonitorMate desk stand is a great solution to this problem.
The ProBase combines two additions to your desk setup — a monitor stand and easy access to your Mac mini ports. The device offers multiple ports on both sides and has a built-in drawer for additional storage.
There is an integrated 31.5-inch USB-C cable that connects from the MonitorMater ProBase Gen2 and has 100W pass-through charging that splits 15W for component power and 85W for a connected laptop. This port is only for power.
There is also an SD and Micro SD card slot and a USB-C and two USB-A ports available for use. On the inside is a 4K HDMI port and a gigabit ethernet port too.
For a product that solves two desk-setup problems, the MonitorMater ProBase Gen2 is a great solution to adding a monitor stand and having easy access to the Mac mini's ports — while also getting additional ones.
External storage
You can configure your Mac mini to up to 8TB of internal storage, but sometimes you may want more or want to transfer large files from one device to another. External storage drives may be a great way to have access to additional storage without paying the big bucks.
LaCie Rugged Mini
If you are looking for a mighty, but small, portable external hard drive, then the LaCie Rugged Mini might be worth looking at.
The tiny driver is only 14.1 ounces and can be stuck into your pocket or bag for easy transfers. It also has up to 5TB of storage inside of it, so you can carry a lot of data inside such a small device.
LaCie Rugged Mini is USB 3 and USB 2 compatible and offers fast transfer speeds of up to 130MB per second.
The outer design is also durable by being drop, shock, dust, and rain resistant.
If you are looking to transfer a lot of data between two devices but do not want to carry around a big and bulky driver, then the LaCie Rugged Mini is a great choice to pick to keep your data with you in a small and durable design.
You can purchase the LaCie Rugged Mini on Amazon for $179.99 — with a 6% discount happening currently — making it $169.99.
Samsung 2TB T7 Portable SSD
The Samsung 2TB T7 Portable SSD is a portable and powerful external storage drive by using USB 3.1 for 1050 MB/s transfer speeds when importing and exporting files to and from it.
It can be used to easily and quickly transfer files to it from one device, take it along with you, and transfer the data to another device without the need to carry around your main computer.
The T7 is also equipped with 256-bit AES encryption and password protection, so your content is always protected when carrying it around.
USB-C is its standard cable to use when transferring data, but it is Type-A backward compatible when using an appropriate cable with it.
You can get the T7 in three colors: red, blue, and titan grey.
You can purchase the Samsung 2TB T7 Portable SSD from B&H for $209.99, but they are currently having a $50 off sale — making it $159.99.
Keyboards
Just like adding a monitor to your setup, having a good keyboard is a necessity in completing your Mac mini setup. While Apple sells great keyboards that can go with your device, other companies offer great keyboards as well.
Magic Keyboard with Touch ID
The Magic Keyboard was already a great keyboard to have with soft keys that offer a smooth typing experience.
With the introduction of the M1 iMac, Apple introduced the next generation of the Magic Keyboard — now with different keys and Touch ID.
There are now designated keys to quickly get to the spotlight, dictation, Do Not Disturb, and the emoji keyboard.
Touch ID makes an introduction to the Magic Keyboard by replacing the lock-key function previously there (though pressing on it will still perform the same function).
You can get a Magic Keyboard with or without Touch ID, or with a numeric keypad attached to it (which does come with Touch ID).
You can choose from either black or white keys.
With the addition of Touch ID for secure unlocking, Apple Pay, and downloading apps, and specifically used keys incorporated into the keyboard, the Magic Keyboard is a great addition to your Mac mini for all your typing needs.
Logitech MX Mechanical
If you are looking for a cheaper keyboard with long battery life and a great typing experience, then the Logitech MX Mechanical is a great wireless keyboard that brings a mechanical feel to a modern-made device.
The battery lasts up to 12 days — with the backlit keyboard on, or 10 months — with the backlit keyboard off. It charges via USB-C too.
The keyboard allows for different height angles, so you can get it at the perfect height for your typing preferences.
Three devices can be connected to it at once — so you can connect your Mac mini, iPad, and iPhone to it and switch between them with the designated keys.
From long battery life to being able to connect three devices and switch between them easily and effortlessly, the Logitech MX Mechanical is a great keyboard to pair with your Mac mini when working between multiple devices.
Mice
You cannot have a keyboard without a companioning mouse to go with it. Finding ones that are responsive and comfortable to use is a great way to access a sufficient workflow.
Logitech MX Master 3S for Mac
Logitech offers a pixel-precise and quiet-clicking device with the MX Master 3S for Mac. It provides an ergonomic design that is made to fit comfortably in your hand.
It has the most accurate sensor built in for maximum responsiveness and has the same click-feeling but with 90% less noise.
There are thumb buttons that you can preset to do different actions, and the scroll wheel is quick enough to scroll one-thousand lines a second but precise enough to stop on a pixel.
The buttons can be customized to work in different applications. Here are the applications it can work in.
Photoshop Video editing Browsers Video calls Word and Powerpoint Excel
The MX Master 3S can be connected between three different devices and can be switched between them with a single press.
The battery lasts for 70 days on a full charge, and three hours on a one-minute charge.
It comes in two color options: space gray and pale gray.
If you are looking for a mouse that will fit comfortably in your hand, is quiet but sturdy, and is super responsive to what you are doing and how you use it, then the Logitech MX Master 3S for Mac is a serious consideration when picking a mouse to purchase.
Magic Trackpad and Mouse
Just like with their keyboard, Apple sells two versions of mice for you to choose from to control your Mac mini — the Magic Mouse and the Magic Trackpad. Both are uniquely designed to fully take advantage of macOS and what the Mac can do.
The Magic Trackpad takes the traditional trackpad out of a MacBook Pro or MacBook Air and solely delivers the best that it has to offer by itself. It's a large glass-touch surface that does not have a physical dive-board but uses haptics to simulate a click when pressed.
The Magic Mouse is one of the best-looking computer mice you can find with its glass surface and small design. The surface can detect a click — and the location of the click — when using it. It uses the same gestures as a trackpad, but with a different design.
The only downside of the Magic Mouse is that its charging port is underneath it, and it cannot be used when charging.
Headphones
While some monitors may have speakers built into them, having a pair of good-quality headphones is a great way to stay focused on the content you are working on — if it is media content, mixing music, or listening to audio.
AirPods Max
While Apple sells several kinds of AirPods, they only sell one over-the-ear type — and that is the AirPods Max. While they are not cheap, they offer many benefits when using them.
The headphones offer an over-the-ear design that allows for Active Noise Cancelation (ANC) when turned on, This is the result of AirPods Max using multiple microphones built in to perform ambient noise detection for various audio controls.
AirPods Max can get 20 hours of use on a single charge when using ANC, and have 72 hours of standby time alone. If you are low on battery and charge them for five minutes, you can get 1.5 hours of additional use.
If you want a wired experience, you can purchase a 3.5mm to Lightning cable. There is no headphone jack on the Mac mini, so you will have to buy a dongle or adapter to use the feature.
The headphones also offer Personalized Spatial Audio so you can be immersed into the content you are listening to.
AirPods Pro (2nd generation)
While over-the-head headphones may be good for most people, some may prefer in-ear headphones more. AirPods Pro (second generation) is a perfect combination of comfort and features to pair with your Mac mini.
With the H2 chip built inside, you can get crisp clear high notes and deep rich bass from the custom-built driver and amplifier built in. It is rendered for every specific ear shape.
AirPods Pro (second generation) offers 2x more noise cancelation than the previous generation and has adaptive transparency. This allows you to tune out any background noise that may be happening in — or around — your house, or be able to hear people clearly when needed.
Touch controls on the stems allow you to control the volume of the media you are listening to, play or pause it, answer or end calls, and switch between noise cancelation and adaptive transparency mode.
Personalized spatial audio is also offered with the AirPods Pro, and allows you to be immersed in your content when listening to it.
You can get up to 6 hours of listening time with noise cancelation on, and up to 30 hours with the charging case.
With impressive noise cancelation, bold sound, and easily being able to switch between Apple devices automatically, the AirPods Pro (second generation) is a great choice when choosing headphones that are light, small, and have really good sound quality when needing to focus on the content in front of you.
Printers
While people are still working remotely, having a good printer on hand is a great way to keep physical copies of documents or print out special photos that you may want to hang up or keep physically close to you.
HP Tango
With a small and stylish design — that does not throw away functionality— the HP Tango is a great choice for an at-home printer.
Weighing in at six pounds, the printer can be moved and transferred to different locations in or outside your house when needed.
Smart assistant and smartphone compatibility are built into the printer, and printing jobs can be sent from your device anywhere you have an internet connection. You can connect the printer to your Mac mini through cable or use WiFi or Bluetooth printing options to get the job done.
The printer is currently only available in white.
Canon Maxify
If you want a printer that fits a more "classic printer design" and can do the essential tasks, then the Canon Maxify might be the right printer for you.
The printer is big and can print, scan, copy, or fax documents for you in one device, and does this without costing a lot of money. You can connect it to online services — like Microsoft OneDrive or Dropbox — as well as directly from the printer itself.
You can purchase the Canon Maxify from B&H for $149.