AppleInsider may earn an affiliate commission on purchases made through links on our site.
Apple's AirPods Max is essentially an accessory to your other Apple products, but there are accessories to that accessory to help prolong its lifespan. Here are the best add-ons you can purchase to bring your AirPods Max to the next level.
Apple released AirPods Max in December 2020, but over two years later, they have yet to receive any update other than the occasional software updates.
From the options of carry-ons to the additional add-ons to the ear cups and headband, here are the best accessories to add onto your AirPods Max.
Best AirPods Max carrying cases
While the AirPods Max comes with a carrying case, it only covers the ear cups of the headphones and not the whole design — and for $550, you're going to want to protect as much of it as you can.
Getting a full carrying case for your AirPods Max is a great way to take around your headphones and put them into bags without the worry of them getting scratched or damaged in any way.
You put the headphones in these cases by just laying them down inside. You can even keep them in the original carrying case as well, so you have double protection from the inside and out.
A good carrying case to choose would be the co2CREA Hard Case that has Sleep Mode activation build into it. Through the incorporated magnetic pad, it allows the headphones to maintain battery life and identify when they are not in use.
The outer material is hard and durable to protect your $550 headphones from any mishaps that may happen around them. The case can protect against water, dust, shocks, and drops, and can even carry around a charging cable and brick inside of it so you always have one handy.
You can purchase the Hard Case for $36.99 on Amazon and choose from an array of colors to match — or not match — your AirPods Max.
Best AirPods Max ear cup covers
The ear cups of the AirPods Max could be considered the main feature of the personal audio accessory. Like any other Apple product, they can be delicate and fragile.
Just like putting a case on your iPhone, you can get covers to put on your AirPods Max ear cups to prevent any damages from happening to them. The plastic pieces grip onto the exterior of the casing and wrap around the stems, and there are cutouts for all the ports and grills for easy access and usage.
There are many options for you to choose from — from transparent, to color-matching the AirPods Max themselves, or a plethora of different designs to add a new flair to your headphones.
Style is not the only area where the covers add improvements, but the covers also provide increased protection. The covers will prevent scratches or dents from happening to the exterior of your headphones.
The covers are usually thin as well, and do not add a lot of additional weight to the product. This means that they can fit snugly in the carrying case that came with you headphones, so you can still use it when your not using your AirPods Max.
If you want to have the ear cup covers match your AirPods Max — without the worry of the outer design yellowing overtime — then the MOLOPPO Case Cover is a great choice to choose for just $11 on Amazon. You can choose from any color that is offered for the AirPods Max, but some colors may be a different price than others.
The MOLOPPO Case Cover does come in a clear option if you are looking for that option.
Best AirPods Max ear pad replacements
After multiple uses, the ear pads may become worn out or not be in the best condition. Luckily, Apple makes it easy to take them off, and third-parties sell replacement ear pads for a fraction of the price that Apple does.
You can remove the ear pads from your AirPods Max by just pulling them off — they are magnetically attached to the headphones.
Earrock sells different colored ear cups for $36 on Amazon, so you can have a multitude of options to choose from. Just like taking the ear pads off, you just place the new ones where the old ones were and they will magnetically go into place.
When first opening the box to the AirPods Max, you will see that the ear cups match the exterior color of the headphones, but buying additional pads can allow you to get a different color than what the exterior is. You can even get different colors for each ear.
Purchasing new ear pads allows you to rejuvenate your comfort with your headphones and spice up their color combination to your liking.
From the easy method of removing and reinstalling the ear pads to the different color options you can find, the level of personalization you can have with your headphones has risen with the addition of prolonging the life of your AirPods Max listening experience.
Best AirPods Max headband covers
The headband on the top of the AirPods Max is usually the area that is most exposed and touched when carrying around your headphones in the carrying case that comes with them.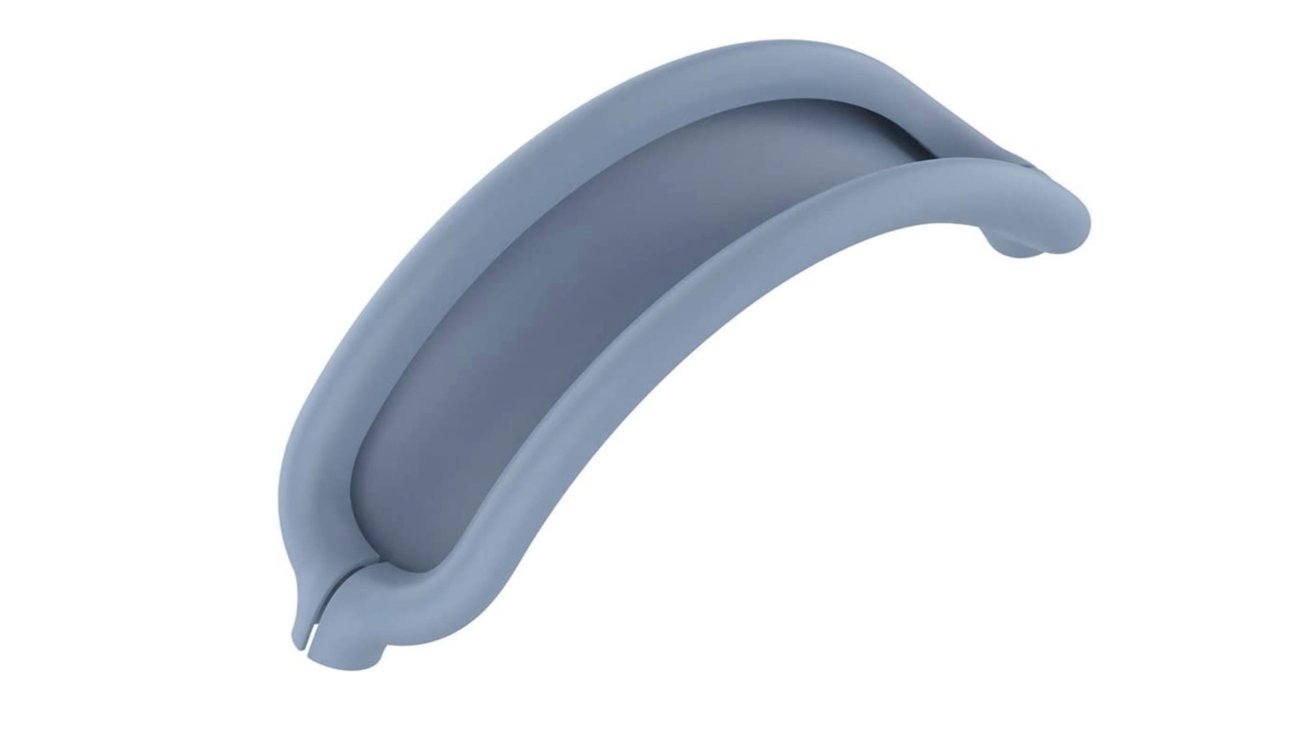 To keep it protected, you can get silicon headband covers to go around the headband. This allows for protection from stains, scratches around the edges, and sweat when wearing them.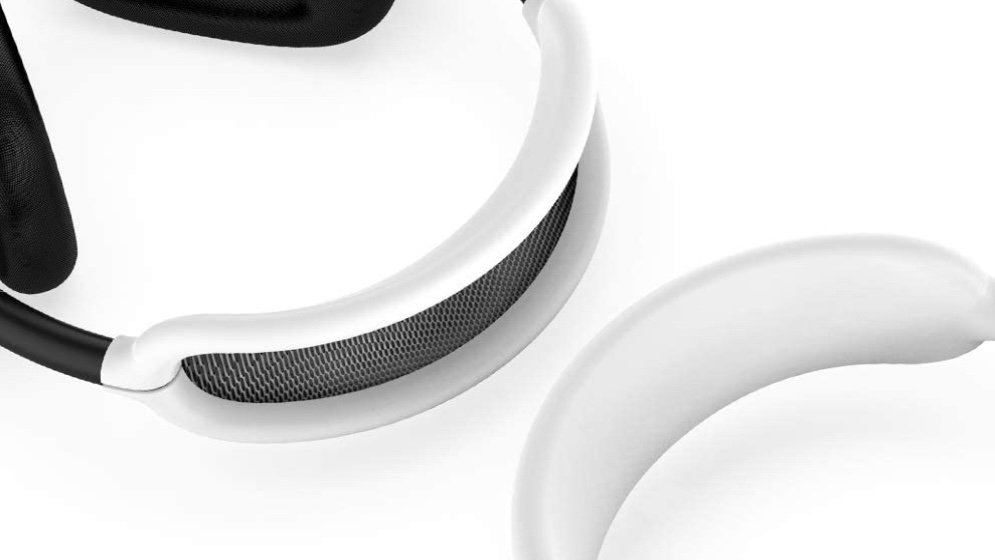 AWINNER offers a selection of headbands to choose from for $9 on Amazon, and the silicon casing of it does not cause irritation to you and slips onto the headband easily.
There are many color options to choose from, so you can get one that is matching or is different from the exterior of your headphones.
With the color options you get to select from for the headband, to the additional choice of colors for the ear cup covers and ear pads, you have multiple different ways to further customize your AirPods Max than the color you picked when first purchasing them.
Best AirPods Max headphone stands
While you can place your AirPods Max down on a table or bedside, it may not feel right or be the best option to station your headphones when not using them.
Getting a headphone stand is a great way to rest your headphones when they are not in use, and it is great to protect them from spills or other damages that may occur.
Any headphone stand will work, and since the charging port is at the bottom of the headphones, you can easily charge them from it as well.
If you are looking for a sleek headphone stand to compliment your AirPods Max, then SHUOSUO offers an aluminum one for $24 on Amazon. The stand is offered in multiple colors and offers a non-slip silicon base so your headphones are protected from tipping over.
If you want a headphone stand that also incorporates a charging station for your other Apple devices, then Suguder sells a one for $50 on Amazon. This allows you to have all your Apple devices in one organized area without the hassle of fearing to forget your headphones when grabbing your iPhone or Apple Watch.
There is even a port on the back of the charging station to plug in a charging cable to charge your AirPods Max from it.
No matter which stand you choose to purchase, they will protect your headphones with a levitating design to lift them over any surface underneath and keep AirPods Max in a natural position.
Accessorize the accessory
While you do not need to add any accessories to enjoy the core functionality from AirPods Max, it is still good to add them on for protection and style. You can never predict the future, so being prepared for the worst may be a good investment.
These are expensive headphones, and just like putting a case on your iPhone for protection, putting a case on your AirPods Max may be a good idea to keep them in the best condition possible for as long as you can..
For $550 over-the-ear headphones (currently on sale from $449), it's certainly worth giving the headphones as much protection as you possibly can. It's better to be safe than sorry.